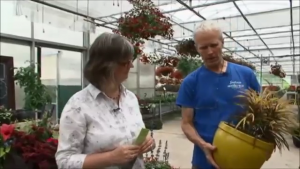 I had the pleasure of visiting Greenhouse on the River to shoot two episodes of The Garden Gate. Peter Green, owner, was my guest for this episode and we talked about their beautiful containers and unique annuals. The Greenhouse on the River is a member of Peterborough and Area Garden Route. This is a cooperative of eight garden-related businesses in the area that each specialize in one or two areas of gardening.
The Greenhouse is well known for their beautiful container gardens. Whether it be hanging baskets, stunning large containers or small succulent gardens, The Greenhouse on the River is the place to go. Peter and Elyn as well as their staff are very knowledgeable in what plants will do well in your specific situation. And they are there to help you choose which you rarely find at box stores! I loaded my car this spring with beautiful plants and they have been doing tremendously. In July they hold their summer sale. So if you need to fill in a few holes, now is the time to visit. Tell them Brenda sent you! Enjoy!
Click here to watch this episode of Garden Gate.