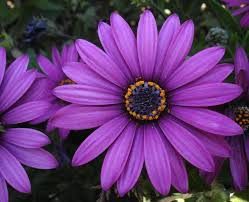 Ultra Violet – The colour of the year!
By Victoria Whitney of Griffin's Greenhouses
The gardening community was excited when Pantone, a well-known colour expert company, announced that the Colour of the Year for 2018 was Ultra Purple. Last year, to stay "on trend" the colour to integrate in your garden was Greenery – how easy was that? In 2018, adding tones of purple will be intentional. Splashes of lavender, purple and rosy blues will POP amid green leaves and will contrast with variegated leaves.
For annuals (and yes, all good gardens have a combination of colourful annuals and valuable perennials) consider the beautiful blooms of petunias, impatiens and geraniums. Each of these garden basics bloom in many shades, but one of the most popular for all three is violet or purple. In impatiens (and yes, they will be back, in small quantities, in many local garden centres) mixtures with bright violet or even violet on its own will shine in shady gardens. Always be careful though, in deep shade gardens to avoid too many deep, dark colours; rich dark shades are lost in the shadows and it's best to add in white or lighter shades of the same dark hue to brighten the darkness.
Other annuals to consider in hues of violet: african daisy (pictured), salvia, dahlias, ageratum, cleome, coleus, fountain grass, ornamental cabbage and kale, alyssum and verbena.
Purple or violet blooms are not as common in perennials; some to note may not bloom purple but feature purple leaves: heuchera (coral bells), lupins, ground phlox, tall garden phlox, coneflowers malva, delphiniums and flowering shrubs such as weigela, ninebark and hydrangeas.
A simple, less permanent way to integrate a specific colour in the garden is to add colourful accents. How about purple outdoor cushions on patio furniture? Or why not paint metal furniture, a trellis or a wire obelisk with a can of Ultra Violet spray paint? Have fun and be "on trend" for 2018!